Duct Leakage Testing in Raleigh, NC
One of the most common yet preventable energy wasters in any home is a leaky HVAC duct system. According to the EPA's Energy Star program, as much as 30 percent of the air moving through a home's duct system is lost due to leaks, poorly connected duct units and holes in the ductwork. Enviro Air offers duct leakage testing to make sure you are getting the most of your HVAC system.
Duct leaks waste energy, elevate energy bills, and negatively impact the overall efficiency of the HVAC system. Much of this leakage goes undetected. Duct leakage testing detects leaks, allowing homeowners to shore up any leaks right away, increasing efficiency and saving energy, making it an essential part of an annual HVAC inspection.
When Enviro Air tests for duct leaks, we use a special diagnostic machine that measures the airtightness of the ducts in the system. This tool features a calibrated fan that measures air flow rate and a device that senses the pressure created by the fan flow. That way we can get a measure of the pressure and fan flow to detect any leakage problems so that leaks can be remedied right away.
Leakage inside the conditioned space can be a problem since it wastes energy and may cause comfort problems throughout the home. However, leakage outside the conditioned space is the biggest energy waster, since air spilling into an unconditioned garage, basement, crawlspace or attic can result in significant energy waste and increased energy costs.
Enviro Air uses the Retrotec DucTester System. It is a diagnostic tool specially designed to measure duct leakage in residential homes, allowing our technician to quickly locate duct leaks and determine the effectiveness of duct sealing.
Our technicians are trained and certified by Retrotec to accurately test your home's HVAC system.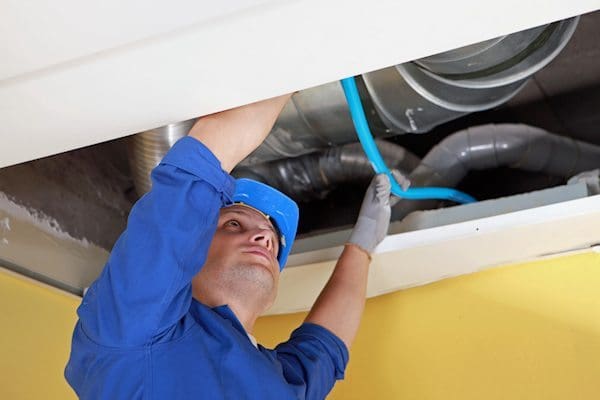 How Duct Leakage Testing Works
Pressurizing or depressurizing the duct system provides measurements on a handheld device that helps the technician find and fix the problem more quickly. This state-of-the-art duct testing system generates professional reports and test results detailing potential energy savings for the homeowner.
Homeowners may begin to suspect that there's a leak in the home's ductwork when they see an elevation in the winter or summer utility bills or find that some rooms are difficult to heat or cool. They may also notice that some rooms are stuffy and that the temperature is hard to control in those rooms. Some homes are more prone to duct leakage, especially homes that have ductwork in the garage, crawlspace or attic.
The biggest benefit of duct leak testing and fixing any leaking ducts is an easier to control home environment. Fixing leaks makes the ductwork more efficient as it delivers forced air throughout the home.
This makes it easier to keep the home at the desired temperature. The other big benefit of finding and correcting leaks in the duct system is energy savings, which can make a big dent in heating and cooling costs year round.
Call us today and schedule a leakage test for your home!
Contact Enviro Air For All Of Your Raleigh Duct Leakage Testing Needs
No project is too big or too small at Enviro Air, we take pride in doing each task effectively and efficiently the first time.  Our expert plumbers provide high quality residential services at affordable rates.  We are licensed and insured for your safety and protection.  Let our professional team help your duct leaks and other repair services today! For more information or to receive a complimentary in-home estimate, call us today: (919) 375-4139
We'd Love To Provide A Quote For Your HVAC Project