As a family owned and operated business, we at Enviro Air know firsthand the importance of providing quality service with a smile…yet without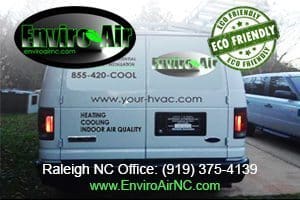 breaking your budget. That's why we're proud to offer discounts on most of our services to our senior citizen and veteran customers – call us at (919) 375-4139 to see if you're eligible and we look forward to serving you!
With a variety of offerings to choose from, here's a quick rundown of how we can help keep your house up and running:
• Air Conditioning/Heating Installation & Repair
• Air Duct/Dryer Vent Cleaning
• Electrician Services
• Nest Thermostat Installation
• Plumbing Services
We are also proud to be considered a Duke Energy Progress Prequalified Contractor – ask about our certifications! Our excellent reputation and long list of satisfied clients attest to our superior craftsmanship, attention to detail, clear communication, honesty and integrity. We may not be the biggest company around but that is because we believe in helping one customer at a time.
Enviro Air's focus is on providing quality service with the highest levels of customer satisfaction – we will do everything we can to meet and exceed your expectations. You'll see that our commitment to the environment is in our name, together, we can help your home go green, while keeping more green in your wallet in the long run!
From Madison to Manteo, our team of professionals are dedicated to making sure your needs are met and your home is functioning at its best! Your free, no obligation consultation is just a phone call away: (919) 375-4139. Don't forget to ask about our discounts for senior citizens and veterans!
All Rights Reserved
Enviro Air
3405 Banks Rd
Raleigh, NC 27603
(919) 375-4139
https://enviroairnc.com